BlogBeats.me had posted my article for one of the major Portugal event. The article is a quick dig into the 6 best cultural restaurants in Lisbon for real Portuguese eats.
From mountains in the North to plains of the South, Lisbon has a wide range of culinary delights. It is a place where both visitors and locals can relish authentic Portuguese food. Whether it's a modern restaurant or older cafes, all have a lavish spread on offer besides great ambience and service.
Below is a list of six restaurants in Lisbon that make for a must visit if you wish to savour some real Portuguese eats: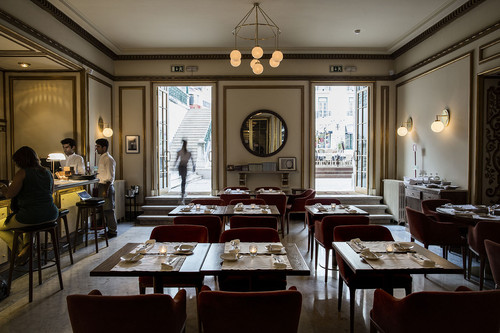 This, undoubtedly, is the best restaurant in Lisbon. Located in Largo de São Carlos, 10 and started by Chef
Jose Avillez
, the restaurant serves elaborated Portuguese cuisines. Every dish reflects a perfection of flavour, texture and quality of ingredients along with loads of creativity, innovation and passion for the cultural Portuguese food. Each dish on the menu is irresistible and cooked to perfection. Within a year of its establishment, the eatery bagged the prestigious Michelin Star.
Sea Me
Sea Me is a haven for seafood lovers and reflects the diverse culinary array of fish and seafood in Portugal. Located in Rua do loreto 21, the restaurant serves fresh fish every day. One can even get his fish cooked as per his own taste. The presentation of the dishes here is of utmost attraction and is supposed to have the best collection of white wine. Also, the 'petiscos' they offer is the best in town.
This is among the highly regarded restaurants in Lisbon. Located in Rua do texieria 35, the restaurant has one of the best atmospheres in the city. Started by Chef Ljubomir Stanisic, the menu has eight course meals accompanied with Portuguese wine. The cocktails on their menu add an extra feather to their cap. They are popular for their version of 'salt cod' and 'prego'.
The eatery's location is the best part, sited at the end of a river walk on the other side of Tagus. One needs to cross the river on a ferry to reach here. Located in Rua ginjal 72, Almada, the food served here has homely flavours dipped in Portuguese roots. Scrumptious food with amazing view is sure to give an unforgettable experience.
Located in Rua de sao bento, the restaurant established its roots in the year 1982. Famous for its steak, Cafe De Sao Bento has won many laurels in the press for 'The Best Steak In Town'.  They serve their steaks with home-made fries. The eatery has an old-styled woody decor that extends an old world charm.
 This is run by one of most promising chefs of the city, Chef Diogo Noronha. While its decor is inspired by Lisbon eateries of the early 20th century, it serves modern, innovative food but employing sophisticated techniques. Every dish here oozes expertise and flavour. The chef loves to work with ingredients that are out of fashion and dig out unusual recipes, such as rissóis de berbigão (cockle rissoles) and caldo de rabo de boi (oxtail consommé).
To read this article on BlogBeats website,
click here
.